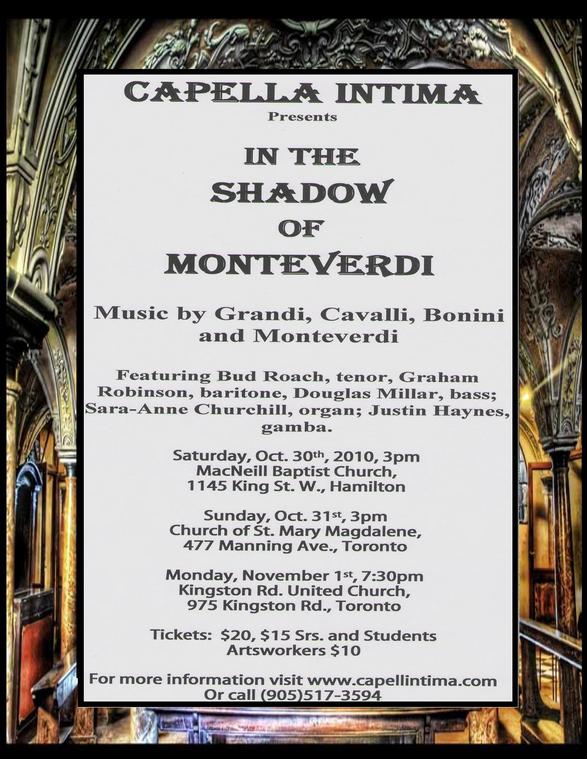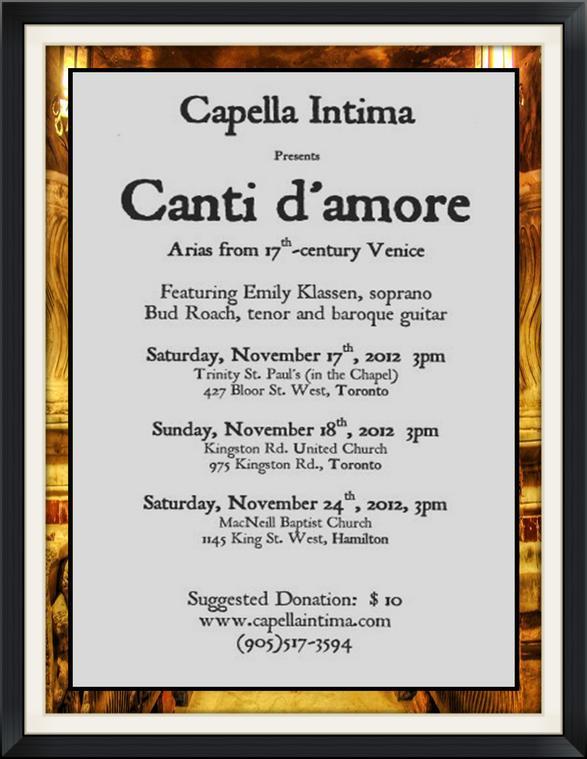 Artistic Director and Founder Bud Roach was busy recording The Grandi Project this past summer. Several of the 22 arias in Grandi's Third volume of arias from 1626 have been featured in Capella Intima concerts. Bud will also be performing selections from the recording at the Toronto Early Music Fair on September 29th, 2012.
Check out some excerpts and historical background in this promotional video for the project: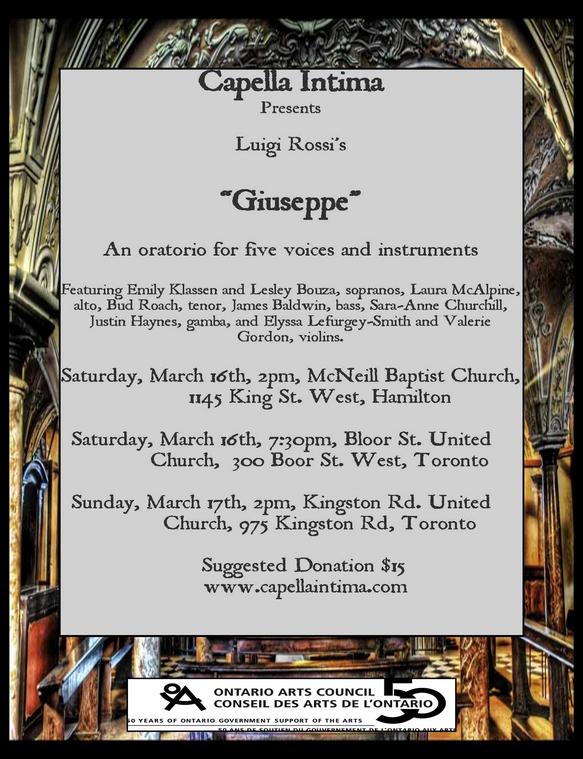 Please see details below about our concerts on March 16th and 17th, 2013

​​We are presenting two beautiful pieces of music: the oratorio "Giuseppe", possibly by Luigi Rossi, preceded by a setting of "Laudate pueri" by Rovetta- an hour-long concert with beautiful ensembles, arias, and instrumental interludes.

Here are some excerpts from our first rehearsals earlier this week. You can hear more about Capella Intima and these works on John Terauds's first podcast on his blog at www.musicaltoronto.org

We look forward to meeting you this weekend!​​​​​​​​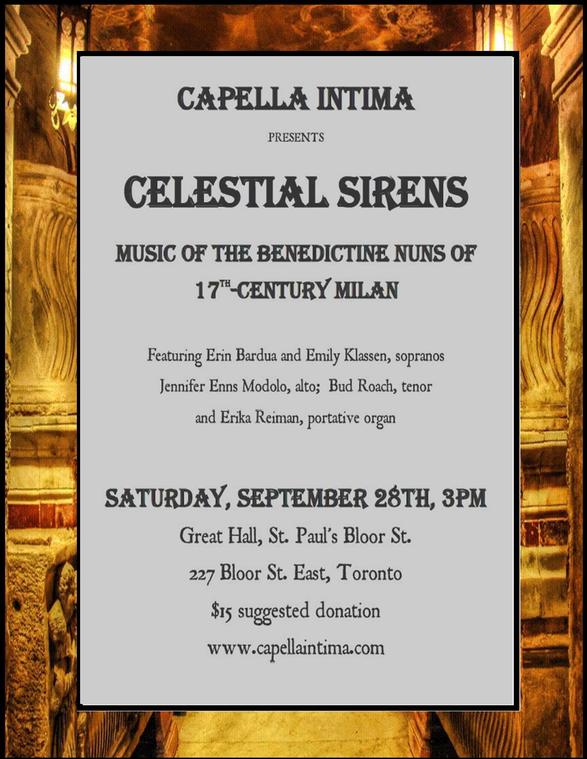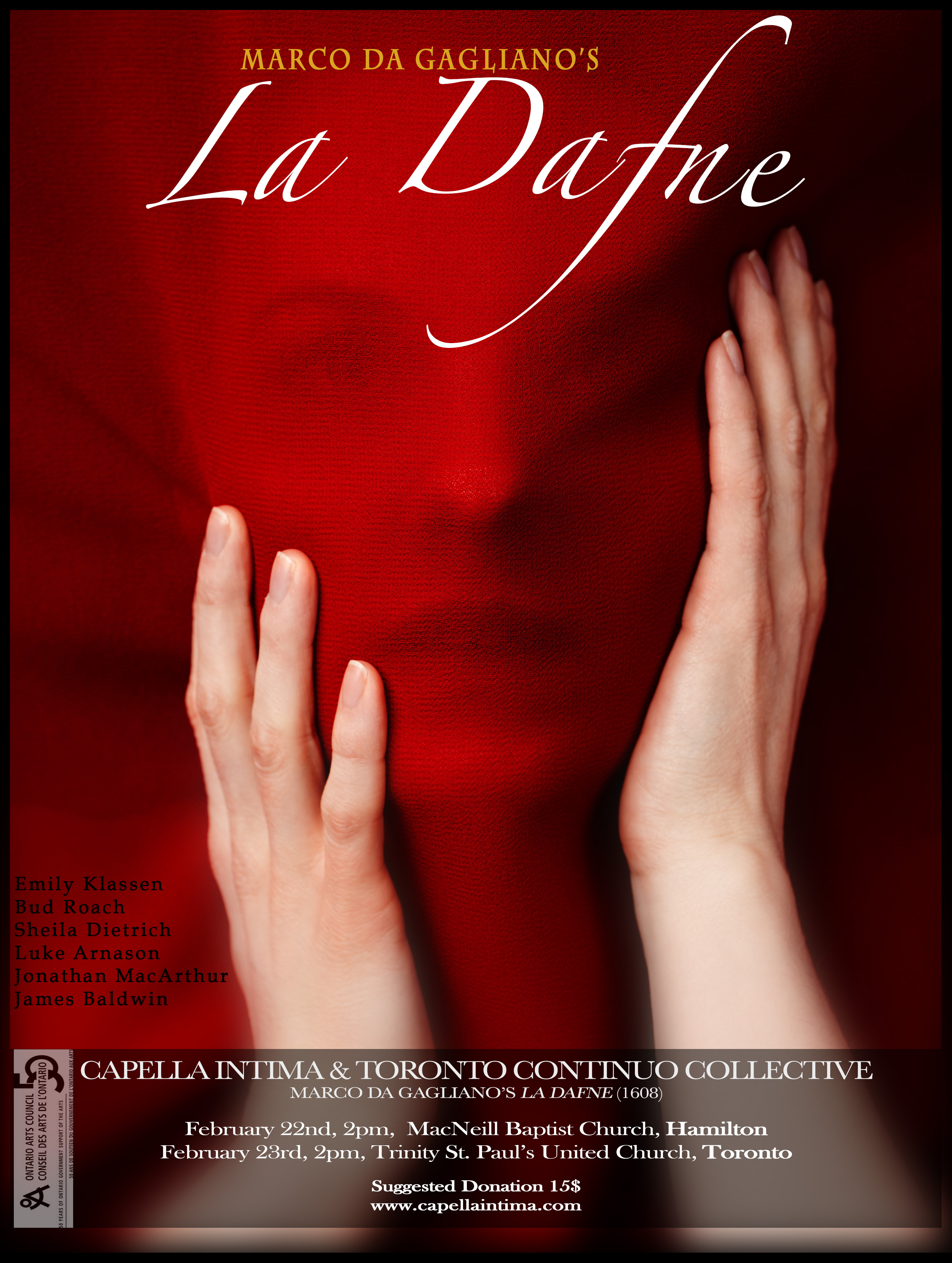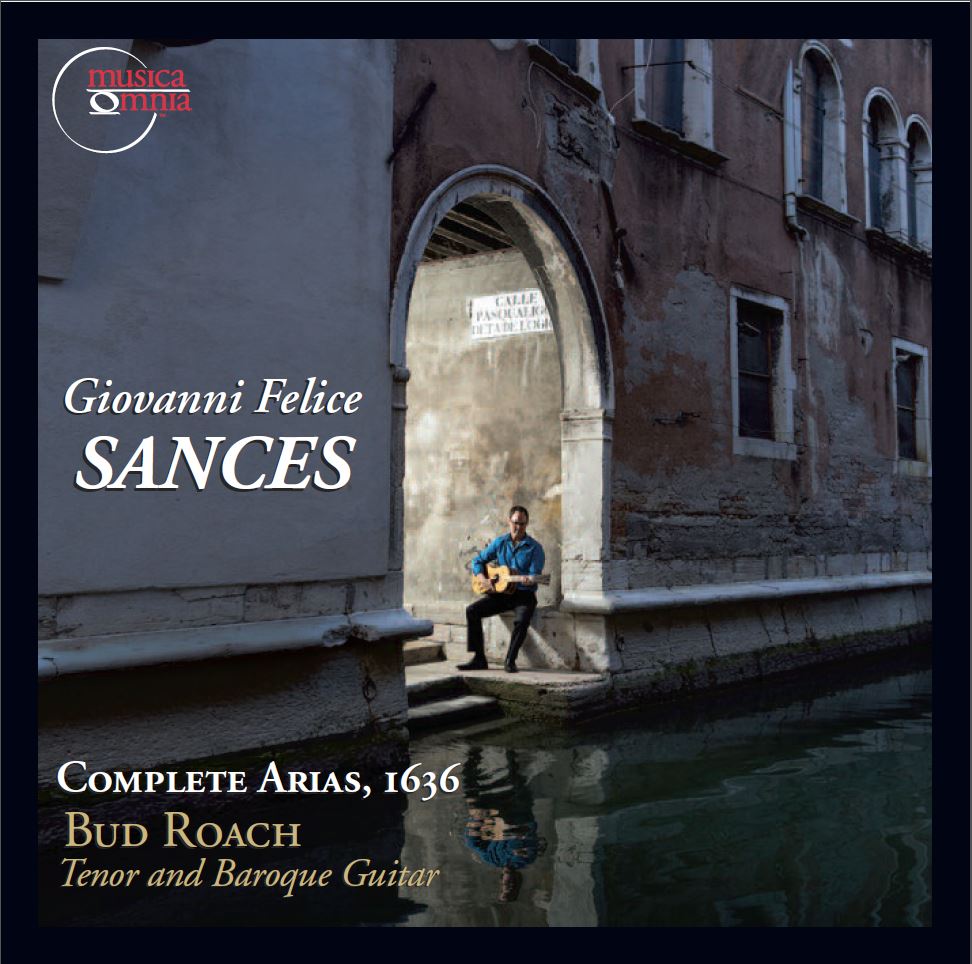 Venetian arias and duets
Bud Roach, tenor
David Roth, baritone​​​

October 18th, 2014, 4pm
St. John the Evangelist Church,
Hamilton, ON​​​​
Suggested donation: $15​

This performance is part of the new baroque concert series in Hamilton- HAMMER BAROQUE

www.hammerbaroque.com
​​​

This concert marks the release of Bud's latest cd for the Musica Omnia label, featuring Sances' complete arias from 1636.​​

Music by Alessandro Grandi and Giovanni Felice Sances​​
The critically-acclaimed hit of last season:
​ Marco da Gagliano's La Dafne, presented with the Toronto Continuo Collective!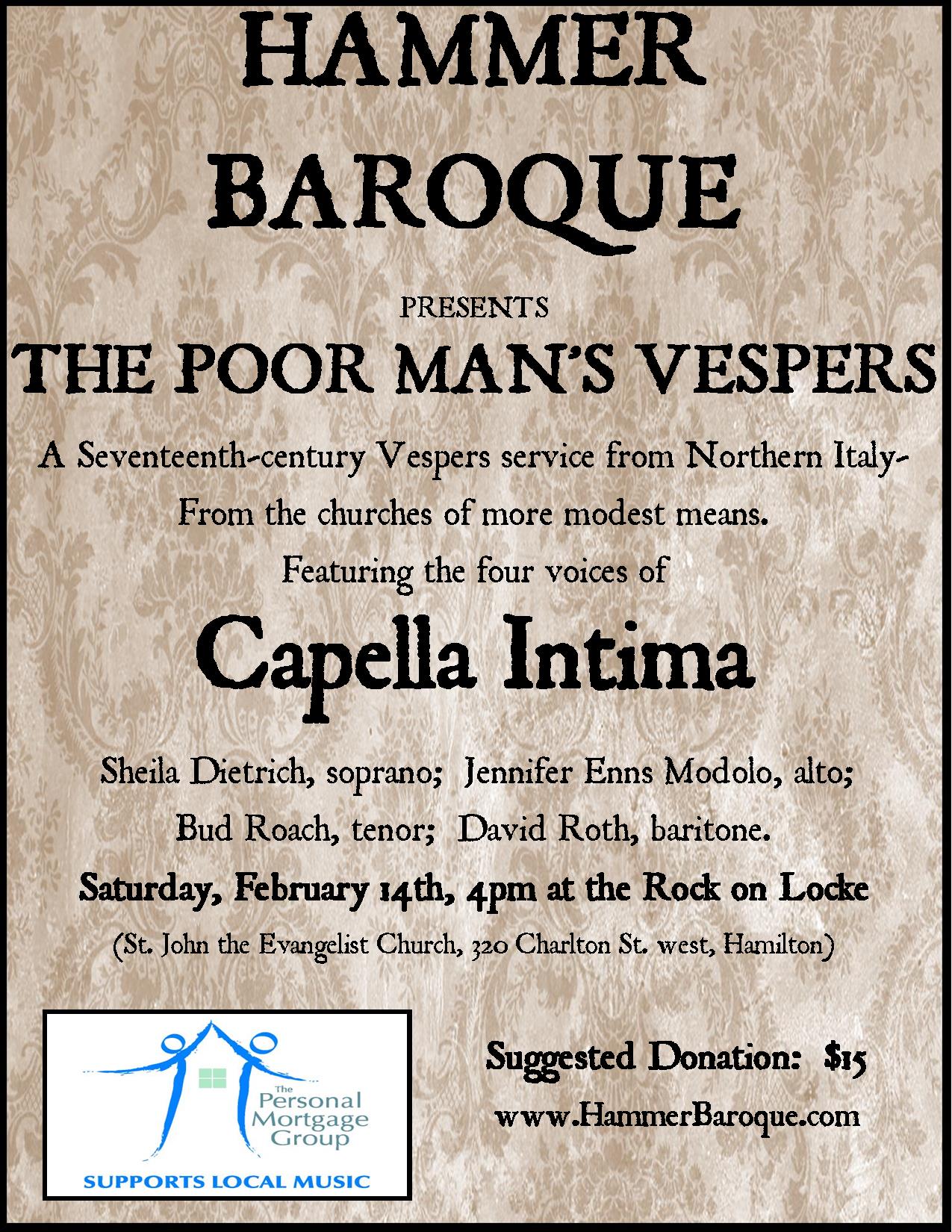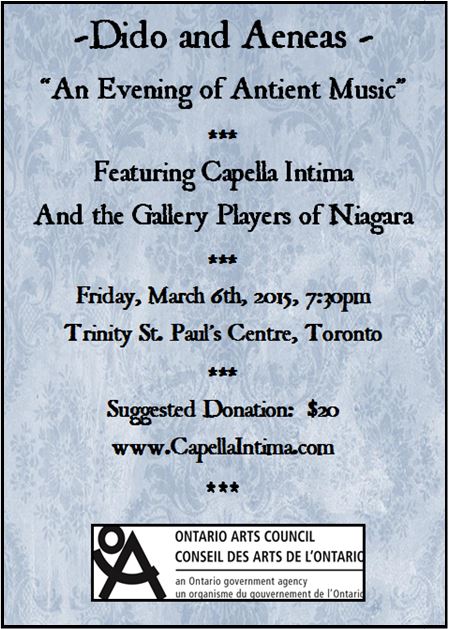 Jenna Douglas interviews Artistic Director
​Bud Roach for Schmopera!
Great reviews for Dido and Aeneas, and our
​"Evening of Antient Music"!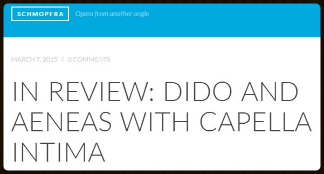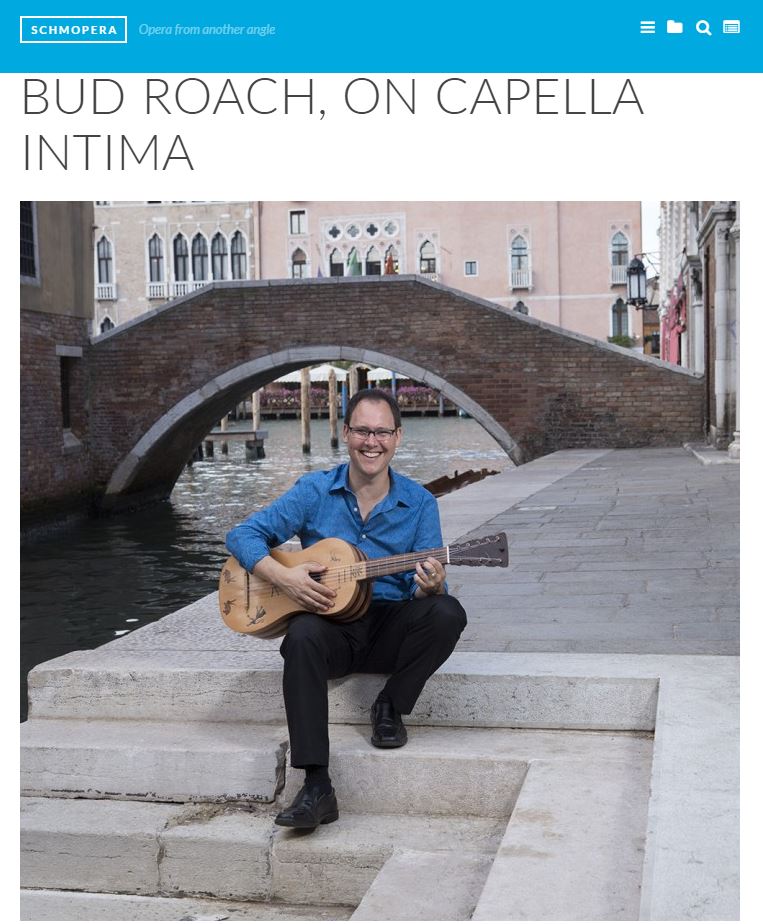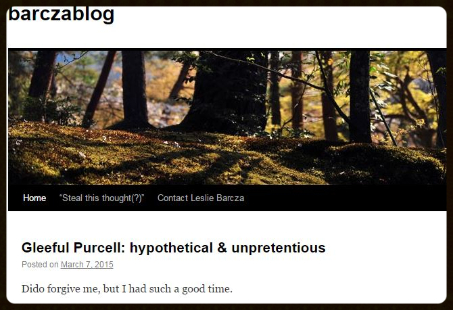 ​​Capella Intima performs excerpts from our last two concerts at JunoFest, the Classical showcase for the Juno Awards, Friday, March 13th, 7:30pm at the Rock on Locke!
​

​​
This eclectic programme includes some of the finest and most familiar madrigals and anthems (from the well-loved Oxford books!), as well as neglected treasures from the songbooks of London's 18th-century singing clubs. Madrigals, Catches, Rounds, and Glees, performed by the four voices of Capella Intima: An hour of beautiful music, beautifully sung.
Next performance: Capella Intima performs at the Midtown Concert Series in New York City, Thursday, June 9th.

``The Paradise of Travellers`` features madrigals, motets and canzonettas from 17th century Italy, with readings of English travellers` recollections of Venice, Rome, and Tuscany.​​

Toronto: Wednesday, June 22nd, 8pm, Trinity St. Paul`s church, 427 Bloor St. West.
​
Hamilton: Sunday, June 26th, 3:30pm, at the Rock on Locke​, 320 Charlton Ave. West. (HAMMER BAROQUE)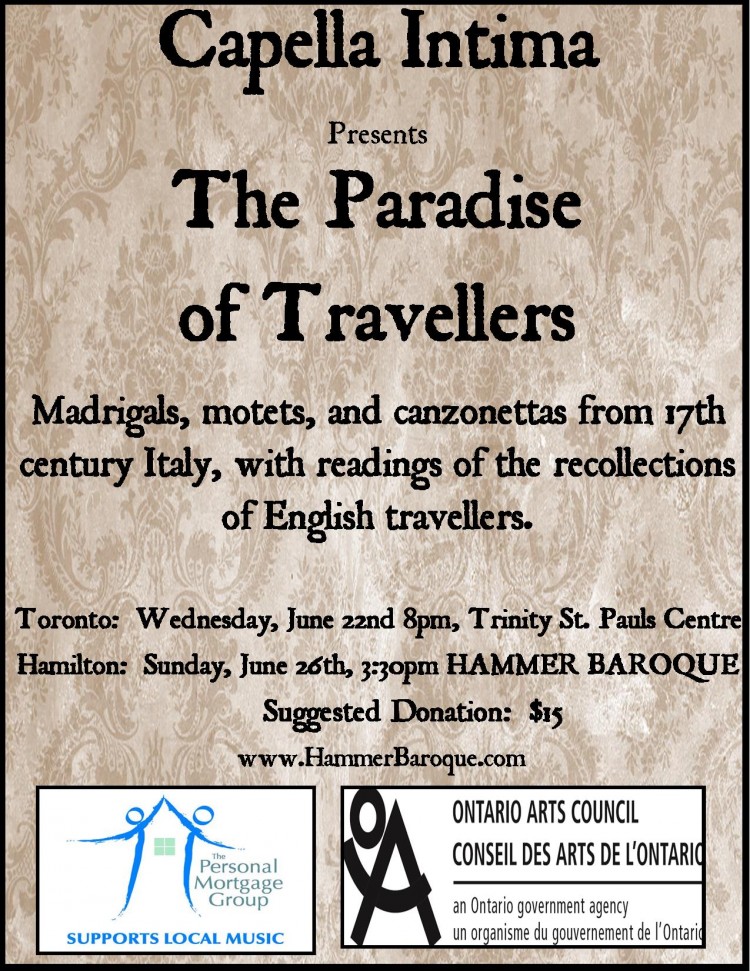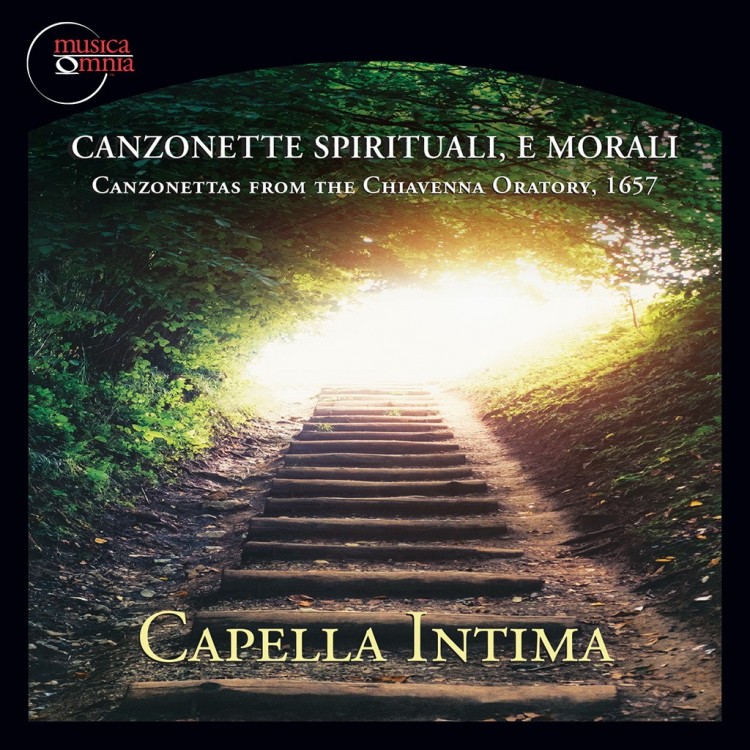 The complete booklet from our debut recording on the Musica Omnia label is now available. Full text translations here.
​​​​​​Highlights of the 2016-17 season:
The four voices of Capella Intima form the solo quartet for the Bach Elgar Choir`s performance of Handel`s Messiah, December 10th, 2016

Madrigals from Italy and England, with lutenist Magdalena Tomsinska. Kitchener, February 15th, 2017; Toronto, February 17th; Hamilton Feb. 18th

Bach`s Easter Oratorio with the Nota Bene Baroque Players, Howard Dyck, conductor. Kitchener, April 22; Hamilton, April 23rd​​​​​​​​​​​​​
​​"Flawless intonation, excellent diction and infectious enthusiasm mark the group as a major contributor to the Baroque music scene". ​
The Wholenote magazine, December, 2016​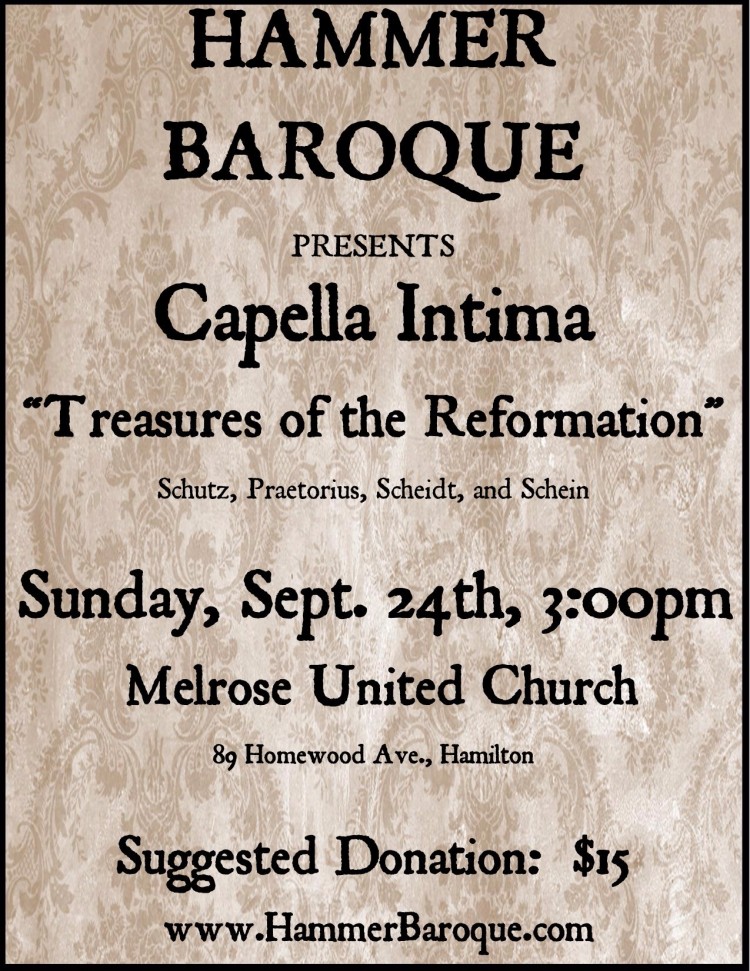 Scarlatti's

"Folly in Love"


​(Gli equivoci nel sem​biante), in
a ​concert co-production ​with the

​Gallery Players of Niagara and the

​Nota Bene Baroque Players​​.
​
June 1st, 2018, 7:30 pm

​
Kitchener-Waterloo
June 2nd, 2:30 pm
​
Hamilton
June 3rd, 2 pm
​
St. Catharines
​
This project has been generously supported by Hamilton's City Enrichment Fund, the Ontario Arts Council, the Canada Council for the Arts, as well as Hammer Baroque donors Rhoda Hassmann and Peter McCabe.
​
This project will be recorded the following week for release on the Musica Omnia recording label in 2019.​​
​​​​Earlier in the 2017-18 season:​​​
Wednesday, January 17th, 12:30pm,
Conrad Grebel​​ University Concert Series
, Waterloo, ON "Hamilton, Durand, Pub & Parlour"
Saturday, January 20th, 8:00pm,
Kitchener Waterloo Chamber Music Society
. "Paradise of Travellers".
Capella Intima is the featured solo quartet for the Spiritus Ensemble's performance of the Mozart Requiem, April 22nd
​