Vancouver-born soprano

Erin Bardua

made her professional operatic debut as Anna in Pacific Opera Victoria's 2000 production of Verdi's Nabucco. Her other operatic roles include Pamina in Mozart's The Magic Flute, Nannetta in Verdi's Falstaff, and Donna Anna in Mozart's Don Giovanni. A lover of contemporary music, she has also been featured in leading roles in two new Canadian operas, Christopher Donison's Eyes on the Mountain and Andrew Ager's Frankenstein.
Equally at home on the concert stage, Erin is also an accomplished oratorio soloist, performing works that include Handel's Messiah, The Creation by Haydn, Mozart's Requiem and Vesperae solemnes de confessore, and Bach cantatas. Erin's performance repertoire is diverse, ranging from Early Music to Contemporary works to Art Song.
Erin is an alumna of various training programs, including the Dramatic Integration (Contemporary Opera and Song) program at the Banff Centre for the Arts, NUOVA in Edmonton, the Halifax Summer Opera Workshop, and the Tafelmusik Baroque Summer Institute in Toronto.
Erin and a group of other adventurous opera singers began clown training in 2003 with mentor Sue Morrison. Since then, Erin has continued her training and participated in the co-creation of a clown opera, which premiered in 2007.
Erin recently completed her Masters degree in Voice Performance at the University of Toronto.

Mezzo soprano Vicki St. Pierre's

warm, lush voice has been described as "Outstanding and captivating - rich with both a darkness and brilliance." (Toronto Star)

Vicki has performed with major symphonies, choirs and opera companies across Canada, the United States and Japan. She is equally at home singing repertoire ranging from Early Music to New Works, Art Song to Pops Programs.

Recent and upcoming engagements include Ms. St. Pierre's appearance with Symphony Nova Scotia, concerts with the Toronto Consort, performances with Opera Atelier, duo-lead roles in Dido and Aeneas with Ensemble Masques in Quebec, performances with Tafelmusik, Messiah performances in Victoria and Montreal, and Beethoven 9th with the Toronto Philharmonic Orchestra, as well as performances with the Toronto Masque Theatre and the Talisker Players. She is currently working on completing her Doctorate in Voice Performance at the University of Toronto.


Recipient of the 2007 Montreal Baroque Prize for Audaciousness and Musicality, harpsichordist

Sara-Anne Churchill

is increasingly in demand as an orchestral player, chamber musician and soloist. She has recently appeared with I Furiosi Baroque Ensemble, Aradia Ensemble, Orchestra London, Niagara Symphony, Mississauga Symphony, The Musicians in Ordinary, Scaramella and Music Niagara.

Sara-Anne was first introduced to music by her mother, in the form of piano lessons, and later went on to study with John Hansen, Walter Delahunt, Robin Wood and Ronald Turini. While completing a Bachelor of Arts in Music at the University of Western Ontario she developed an intense interest in early music and historical keyboards and studied harpsichord with Sandra Mangsen. Sara completed a Masters of Arts in Musicology at UWO in June 2006. Her thesis research consisted of a translation and commentary of a French baroque harpsichord continuo treatise. An article based on her thesis was later published in Performance Practice Review.

One of the first graduates of the new Advanced Certificate in Performance-Baroque Option, jointly offered by the University of Toronto and Tafelmusik Baroque Orchestra, Sara has also received instruction from Charlotte Nediger, Olivier Fortin, Skip Sempé, Richard Egarr, Carole Cerasi and Luc Beauséjour. She recently graduated with a Doctorate of Musical Arts from the University of Toronto.

Justin Haynes

studied viola da gamba at Harvard and the Royal Dutch Conservatory in the Hague where his principal teachers were Philippe Pierlot, Anneke Pols and Reiner Zipperling. Currently based in Toronto, he has performed with Folia, Scaramella, Tafelmusik, Opera Atelier, Les Voix Humaines, and the Classical Music Consort as well as with the Boston-based Arcturus Chamber Ensemble and Les Bostonades. He is also a founding member of the recently formed baroque chamber ensemble, Elixir. Justin's interest in the viola da gamba includes the history and construction of the instrument itself. After making the viol he currently plays on, he was awarded a Shaw traveling fellowship to study instrument making in London and to explore the great Northern European viol collections.
Described as the quintessential light lyric tenor (Opera Canada),

Cory Knight

is already proving to be in demand as a soloist and ensemble singer.
A versatile artist, Mr. Knight has been seen in such roles as Lucano and Telemaco in Monteverdi's L'INCORONAZIONE DI POPPEA and IL RITORNO D'UILISSE IN PATRIA respectively, Aeneas in Purcell's DIDO AND AENEAS, Count Almaviva in Rossini's IL BARBIERE DI SIVIGLIA, Gastone in Verdi's LA TRAVIATA, Lysander in Britten's A MIDSUMMER NIGHT'S DREAM, and Charlie in Weil's MAHOGONNY SONGSPIEL. As a frequent performer of concert works he has sung several of Bach's cantatas, his ST. JOHN and ST. MATTHEW PASSIONS, CHRISTMAS ORATORIO, and MASS IN B MINOR, Handel's MESSIAH, Mendelssohn's HYMN OF PRAISE, and Orff's CARMINA BURANA.

As a soloist, he has worked with such groups as Chorus Niagara, Mississauga Choral Society, Pacific Opera Victoria, Pax Christi Chorale, Opera Atelier, Orchestra London Canada, Tapestry New Opera, Toronto Chamber Choir, and Toronto Classical Singers.

Highlights for the 2011/2012 season include singing the arias in Bach's ST MATTHEW PASSION with the Grand Philharmonic Choir, Schubert's MASS IN G with the Toronto Classical Singers, and Zelenka's MISSA VOTIVA with the Tafelmusik Baroque Orchestra and Chamber Choir. He will join Toronto Chamber Choir for a Christmas concert of carols, motets, and songs, and Capella Intima for a mixed program of 17th century sacred and secular music by Venetian composers. He will also sing the role of Oronte in Essential Opera's concert performance of Handel's ALCINA. In addition to these solo endeavours, Mr. Knight continues to enjoy singing as a core member of the Tafelmusik Chamber Choir.

A graduate of the Glenn Gould School and York University, he has studied at the Accademia Rossiniana in Pesaro, Italy (dir. Maestro Alberto Zedda) and the Tafelmusik Baroque Summer Institute (dir. Ivars Taurins). With the support of the Canada Council for the Arts he has studied at the Internationale Bachakademie Stuttgart, Germany where he was chosen as a soloist for a performance of the ST JOHN PASSION under the baton of Maestro Helmuth Rilling for the anniversary of Bach's baptism in Bach's town of birth. Most recently he attended the Britten-Pears Young Artist Program in Aldeburgh, England through the generous support of the Canadian Aldeburgh Foundation.

Toronto based baritone David Roth has recently finished his performance degree at the University of Toronto, where he studied under the direction of Patricia Kern. Mr. Roth is the recipient of several academic awards offered by the Faculty of Music and the Faculty of Arts and Science. A veteran performer, David has sung in Canada, the U.S., and great Britain as both soloist and chamber musician with such organizations as the Montreal Symphony Orchestra, the Toronto Symphony Orchestra, Tafelmusik Baroque Orchestra and Chamber Choir, and the Toronto Masque Theatre. David has appeared as a featured soloist with Tafelmusik in the programme Bach in Leipzig, the Durham County Chamber Choir in performance of Faure's requiem and the Kitchener Symphony Orchestra in Kurt Weill's The Seven Deadly Sins. Some of David's operatic roles include Polyphemus in Handel's Acis and Galatea, the debut performance of Gesualdo in Peter Fischer's O D'Amarti O Morire, Olin Blitch in Floyd's Susannah, and Lindorff and Dr. Miracle in Offenbach's Tales of Hoffmann. David is also co-founder and artistic director of Cantores Fabularum, a volunteer choir that raises money for First Stop Woodlawn, a shelter for women administered by the YWCA.
Soprano

Emily Klassen

is quickly gaining attention for her clear, expressive singing and intelligent interpretation of 17th & 18th Century music. With the generous assistance of the Canada Council for the Arts, Emily participated this past August in the Accademia Europea Dell'Opera (AEDO) in Amsterdam where she performed the roles of Amor and Minerva in Monteverdi's "Il ritorno d'Ulisse in patria" under the baton of Gary Thor Wedow, directed by Tim Nelson.
In Toronto, Emily has performed in several opera productions including the role of Doriclea in excerpts from La Doriclea by Cavalli (Toronto Continuo Collective), The Queen of the Night in Mozart's The Magic Flute (Summer Opera Lyric Theatre), Casilda in The Gondoliers by Gilbert & Sullivan (Toronto Operetta Theatre), and Adrianna in The Boys from Syracuse by Rodgers and Lorenz (Tryp Tych Productions). Outside Toronto Emily has sung the role of Calisto in exceprts from Cavalli's La Calisto, and Nanetta in excerpts from Verdi's Falstaff (Canadian Operatic Arts Academy – London, ON), Eurydice in excerpts from Orphée aux enfers by Offenbach (Spoleto Vocal Arts Symposium – Spoleto, Italy) and Peaseblossom in A Midsummer Night's Dream by Britten (Opera NUOVA – Edmonton, AB).
As a soloist Emily has appeared with Interationaal Danstheatre in Amsterdam, Toronto Continuo Collective and the Cardinal Consort of Viols, Vocal Horizons Chamber Choir, Le Nouvel Opéra in Montréal and Toronto Operetta Theatre.
Emily's other love – acting – has lead to two films with the Canadian Film Centre, "Bigg Job" and "Odysseus and the Sea Nymphs," as well as the independent film "Gone" with DVision Productions. TV appearance include the Lifetime Network series "Angela's Eyes," the CTV series "Flashpoint" and most recently playing the opera singer in an episode of the up-coming NBC series "Hannibal."

Tenor, Baroque guitarist, and Capella Intima Founder and Director

Bud Roach

has garnered international praise for his work in the genres of both early music and the contemporary. Recent projects include his album of Alessandro Grandi arias, "Sospiro" ("marvelous throughout- five stars"- Early Music Today, UK), and another recording of arias by Giovanni Felice Sances from 1636; performances at the Boston Early Music Festival Fringe Series ("revelatory concerts"- Early Music America Magazine), performances of the 1608 opera La Dafne with his ensemble Capella Intima, and a residency in Italy supported by the Ontario Arts Council, including research, a solo performance, and a new recording for the Brilliant Classics label. (www.budroach.com)
​
Lucas Harris

studied at the Civica scuola di musica di Milano (as a Marco Fodella Foundation scholar) and at the Hochschule für Künste Bremen. Based first in New York and since 2004 in Toronto, he has become one of North America's busiest lutenists. In addition to his regular engagements with Tafelmusik Baroque Orchestra, he has worked with the Toronto Consort, Circa 1500, Apollo's Fire, Les Voix Baroques, the Smithsonian Chamber Players, The Harp Consort, the Boston Early Music Festival orchestra, Les Délices, and many other ensembles. He is the founding member of the

Toronto Continuo Collective

, the Vesuvius Ensemble (dedicated to Southern Italian folk music), and the Lute Legends Ensemble (a multi-ethnic trio of lute, pipa, and oud). Lucas has also played with several modern-instrument groups, including the Boston, St. Louis, and Montréal Symphony Orchestras, the Metropolitan Opera, the Orchestra of St. Luke's, and Via Salzburg, with whom he was a concerto soloist. Recordings include the solo CD Baroque Lute Recital as well as a collaboration with violinist Geneviève Gilardeau, The Bach/Weiss Sonata.

Lucas is a regular faculty member of the Tafelmusik Baroque Summer Institute as well as Oberlin Conservatory's Baroque Performance Institute, and has recently joined the faculty of the Vancouver Early Music Festival's Baroque Vocal Programme. He has also taught for the International Baroque Institute at Longy, the New York Continuo Collective, and Amherst Early Music/Lute Society of America. Lucas has been a guest music director with the Pacific Baroque Orchestra, the Ohio State University Opera program, and Les Voix Baroques. He has just completed his M.M. in choral conducting at the University of Toronto with Dr. Hilary Apfelstadt, funded by a prestigious SSHRC research grant. In 2014-2015 Lucas will be a guest director with the Toronto Consort and will also begin as the new Artistic Director for the Toronto Chamber Choir.

Borys Medicky
has appeared as solo harpsichordist and continuo player in the United States, Canada, and Europe. Currently residing in Toronto, he is active as a freelance performer, having appeared with major ensembles in Toronto and beyond such as Tafelmusik, The Toronto Consort, Opera Atelier, Aradia, Baroque Music Beside the Grange, Via Salzburg, the Grand River Baroque Ensemble, the Elora Festival Chamber Players, Orchestra London and the Kitchener-Waterloo Symphony. He is the artistic director of Kitchener-based Nota Bene Baroque, with whom he performs as a soloist and continuo player, and serves as organist of the Fifth Church of Christ, Scientist in Toronto.
Borys studied harpsichord with Michael Jarvis in Canada and with Arthur Haas at the Eastman School of Music and the State University of New York at Stony Brook, as well as Baroque performance practice with lutenist Paul O'Dette. Upon the completion of his doctoral degree at Stony Brook he was awarded the Samuel Baron Prize, given to an outstanding graduate. He is known for his strong interest in historical dance and its influence on instrumental music. In addition he carries out harpsichord maintenance duties for institutions and private owners in the Toronto area. Visit his web site for more information.
Soprano

Sheila Dietrich

is a graduate of the Opera Diploma Program at Wilfrid Laurier, and has sung as a chorister and soloist with the Elora Festival Singers and the parish choir of St. John the Evangelist in Elora, Ontario. Sheila has also worked with Les Violons du Roy, The Toronto Classical Singers, The Toronto Mendellsohn Choir, The Bach Elgar Choir, and Da Capo. Recently, she was featured on the Juno nominated CD "Notes Towards" in the title track written by Canadian composer Tim Corlis. Other recent performances have included the Schubert Mass in G, the role of Belinda in Dido and Anaeas, and Britten's Company of Heaven. She recently made her Carnegie Hall debut as the Second Witch in Purcell's Dido and Aeneas (Richard Egarr), and was a prize-winner at the 2015 New York Oratorio Society Competition.


Counter-tenor

Luke Arnason

is a professor of French specialised in theatre and opera of the seventeenth century. He completed his doctoral studies at the Université Paris-Sorbonne under the direction of Georges Forestier and, since 2008, has taught in universities and colleges throughout Ontario. As a researcher, he has established critical editions of baroque opera libretti and has published several studies on the place of theatrical ornaments such as prologues and choruses on the seventeenth century French stage.
Before devoting himself to academia, however, Luke was a professional chorister. His musical training inspired his interest in French "baroque" opera and has given him a keen interest for historical performance practice, both musical and theatrical. In order to pursue these interests, he has worked as a faculty member of the Toronto Continuo Collective since 2011, training singers in historical French pronunciation. He is also a competent amateur harpsichordist.
For more information on Luke Arnason's research and publications, visit his profile on Academia.edu: http://independent.academia.edu/LukeArnason

Performers from past seasons
Jennifer Enns Modolo
studied at Wilfird Laurier University where she earned her Bachelor of Music degree in voice, and she has since been delighting audiences everywhere she performs with her clear,
unaffected voice and meaningful singing.
Though primarily a concert and oratorio singer, Jennifer is equally at home on the opera stage. She performs regularly as a recitalist, and has appeared as a featured soloist with numerous groups including Opera in Concert, the Muskoka Opera Festival, the Talisker Players, the Toronto Mendelssohn Choir, the Toronto Classical Singers, the Grand River Baroque Festival, the Aradia Ensemble, Chorus Niagara, the Guelph
Chamber Choir, the Elmer Iseler Singers, the Nota Bene Period Orchestra, the Elora Festival Singers, the Grand Philharmonic Choir, the Richard Eaton Singers and the Vancouver Bach Choir.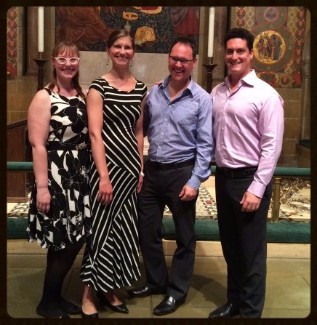 Capella Intima
​​​​Sheila Dietrich, soprano
Jennifer Enns Modolo, alto
Bud Roach, tenor and Artistic Director
David Roth, baritone​​​